---
My "Amazing Bread" Recipe
---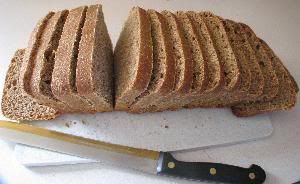 Bread baking is an almost lost art to today's homemaker, and it is one that should be revived. Most breads at the store are bad for you. Even the organic, whole grain breads can be harmful. Nothing can replace homemade sourdough bread. Before you can make this fantastic bread of our great-grandmothers, you need to make a whole wheat sourdough starter. It's simple to do, but will take about nine days to complete.

Sourdough Starter

Sourdough starter is a fermented batter of flour and water, which has the natural ability to raise bread, without the use of commercial yeast. Once you've made your sourdough starter, you can keep it as your little kitchen pet, and it can last you the rest of your lifetime. It can then be passed down to a child, and they can use it for their life. Sourdough starters can last hundreds of years. Just keep using and feeding it, and it'll help feed your family fantastic nutrition.

Here's how to make this amazing stuff:

1. In a large, sealable, plastic bowl or container, put in one cup of wheat flour, and one cup of spring water (not tap water, unless you are SURE there is no chlorine in it).

2. Mix the flour and water, and cover the bowl. Leave it on the counter for two days.

3. On day three, mix in a cup of wheat flour, and a cup of spring water. Leave it alone for a few more days.

4. On day five, mix in one cup of wheat flour, and one cup of spring water. Do the same on days six and seven.

5. Days eight and nine - leave the batter alone, don't mix it, or add anything to it. By day nine, you'll have sourdough starter.

Store the sourdough starter in a closed container (not metal) in the fridge. Try to use some of it at least once per week. (The internet has thousands of recipes you can use with your sourdough starter, so don't worry.) Each time you use some, add equal parts of wheat flour and spring water to the starter, and mix. This is called "feeding the starter."

Your sourdough starter may exude a brownish liquid on top. That is normal; just mix it in. Your starter should smell sour, or a bit like beer. The more you use your starter, and the more older it gets, the better it works and tastes.

Homemade Buttermilk

You'll also need some homemade buttermilk for the following bread recipe. Making homemade buttermilk is simple. Just get a clean, one quart jar, and put in two tablespoons of store bought buttermilk. Fill the jar the rest of the way with whole milk. Do not use ultra-pasterized, but pasterized is okay. Put the lid on the jar, shake it well, and then put it away in a cabinet for 24 hours. 24 hours later - you have homemade buttermilk. Homemade buttermilk will be thicker than store bought, and a bit stretchy. It is perfect for baking.

Amazing Sourdough Bread

This recipe makes 4 loaves. It takes about an hour of work, if done by hand, and less time, if using a mixer. I've found it takes roughly the same amount of time, whether I'm making 1 or 4 loaves. I like to make four loaves, and store the extra loaves in the freezer until needed. To defrost a loaf, simply let it sit out on the counter for a few hours. If you need to defrost some slices right away, put them in the toaster. I usually make my bread with my Kitchen Aid mixer, but below I will show pictures of how to do it by hand.
Ingredients

3.5 cups homemade buttermilk

4 cups homemade whole-wheat (or spelt) sourdough starter

2 teaspoons sea salt

1/3 cup pure honey

1/6 cup molasses

2 tablespoons butter, softened to room temperature

10-17 cups of whole-wheat flour - You will probably use almost 5 pounds of flour.

How to Make Amazing Bread

NOTE: I suggest you set aside an hour in the late afternoon to make this bread.

1. Make sure you have your homemade buttermilk:


and your homemade whole-wheat sourdough starter:
NOTE: You don't have to proof or prep the sourdough. Use it cold, straight from the fridge. You can use all ingredients cold.
Here is what my sourdough starter looks like up close, right out of the fridge:
2. Put in 3.5 cups of homemade buttermilk into a very large mixing bowl:
3. Add 4 cups homemade whole-wheat sourdough starter:
4. Before you put your starter back into the fridge, feed it. Mix in one cup of whole-wheat flour, and one cup of spring water, then place the starter back into the fridge. Keep feeding your starter each day until you have 5 or more cups of starter: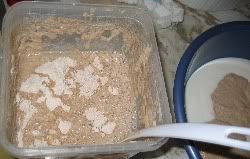 5. Add the sea salt, honey, molasses, and soft butter:
6. Mix it:
7. Add in some flour, a cup or two at a time, and mix it in with a plastic or wooden mixing spoon: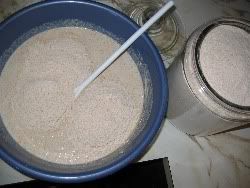 8. Keep mixing in flour until it gets too thick to continue mixing by spoon: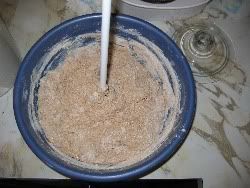 9. Wash your hands, and continue adding flour and mix it by hand:
10. If you don't have your grasping muscles in your hands and forearms built up, then this may be tiring. Keep at it. After you've made this bread a few times, it'll be much easier. Keep adding flour until the bread starts to turn into a dough. You'll want the dough to be slightly sticky, like it feels when you touch the sticky side of masking tape. However, you don't want it so sticky that it'd rather stick to your hands in clumps, instead of sticking to itself. When it starts to turn into dough, it'll have an uneven consistency and color. It will look like this: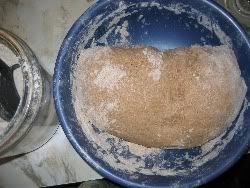 11. When your bread gets to this point, it's time to stop adding flour, and start kneading it. Knead the bread for 10-15 minutes.
NOTE: When working with wheat flour doughs, such as this one, you want the dough to be sticky. If it is dry, add a bit of water. A dry wheat dough will yield a hard bread when baked. A sticky wheat dough can help yield a light and fluffy bread when baked.
If you're used to kneading bread, you may choose to knead it on the counter or table. I prefer to knead my bread right there in the bowl. Here is how I knead in the bowl... First, punch the dough down, so that it looks like this:
12. Then, roll it over, and punch it down again:
13. Keep repeating this for about 10 to 15 minutes. A well kneaded dough will look like this:
14. Grab a good bread knife, and cut the dough into four portions of equal size: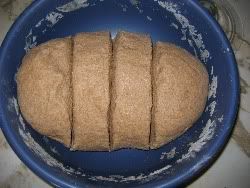 15. Use butter to grease four 9-inch loaf pans: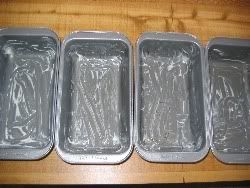 16. Grab one of your four pieces of dough, and form it into a gluten ball, to stretch the gluten strands one more time before patting it into the pan. To make a gluten ball, simply stretch the dough inside out, over your closed fist, like this:
17. Then, close the end of the dough, so that it's a ball. Have the ugly side of the ball facing up, and set the ball of dough into your buttered loaf pan: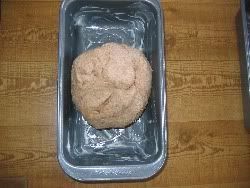 18. Use your knuckles and squish the dough into the pan.
19. Next, grab the dough back out of the pan, flip the dough upside down, and set it back into the pan. See? Now the dough looks pretty and smooth, and the butter in the pan automatically buttered the top of your loaf for you. Do steps 16-19 with the other three pieces of dough you still have waiting: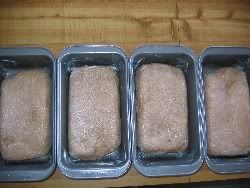 20. Time for the dough's first rest and rise time. Cover all four pans of dough loosely with paper towels or a clean dish towel, and leave them there until right before you go to bed. - Several hours.
Right Before You go to Bed
If you take a look at your dough, you may find it partially or completely risen already:

The leaven is working great, but your wheat is still not soaked well enough for the needed health benefits. Wash your hands, and then take a few minutes to do the following before you go to bed:
1. Grab a loaf pan of dough, and punch it down in the center to deflate it:
2. Use your knuckles, and press the dough flat again:
3. Roll the dough like this:
4. Grab the dough out of the pan and knead it for a few seconds - about 10 seconds should be fine. If parts of the dough are a little dried or hardened, don't worry. This short kneading session will soften the dough again and make it as good as new.
5. After you've re-kneaded for about 10 seconds, form the dough into a gluten ball, like you did earlier today. Then, press it into the loaf pan, and then flip the dough upside down, like you did earlier today in step 19.
6. Repeat the above 5 steps on your remaining loaf pans of dough. Your dough should look like this in their pans now: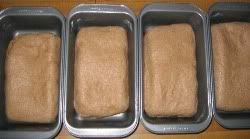 7. Time to leave the dough for it's second, and final, rise time.
Now you're done until tomorrow morning when you arise.
The Next Morning
Yesterday, you made your dough and let it rise twice. The wheat in your dough has soaked long enough. Now it's time for the most fun part of bread making: baking the bread, and enjoying the wonderful smell.
1. Take a look at your fully risen bread. It should look like this:


2. Time to start baking... bake the bread at 350 degrees for 49 minutes.

3. When it's done baking, take the bread out of the oven, and out of the loaf pans. If the bread wants to stick in the pan, then use a butter knife in the corners of the pan to gently coax the bread out. Leave the bread sitting out to cool for a few hours:


4. After the bread has cooled, grab a good bread knife, and slice it: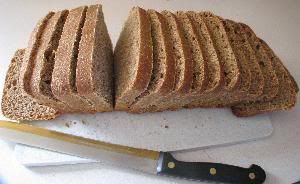 5. I store my sliced bread in large freezer Ziploc bags. I put three loaves into the freezer, and I keep one out. When that loaf gets to half-way gone, then I take another loaf out of the freezer, open the Ziploc bag, and let it thaw for a few hours.