---
---
Kombucha is a sour, tangy, slightly carbonated drink that is very good for you. Some people claim to have relief from menstrual issues, illnesses, and discomforts from drinking this seemingly miracle drink. Kombucha will give you energy, and is great for watching your weight, and can make your hair and skin healthier. Kombucha can help you be healthier from the inside out.

Kombucha is a fermented, brewed drink, so it does contain a trace amount of alcohol. There is probably more alcohol in a glass of orange juice left sitting out overnight than there is in kombucha, so don't worry.

Before you can brew kombucha, you need to obtain a scoby, which is a living culture of healthy yeasts and bacteria (SCOBY - Symbiotic Culture Of Baceria and Yeast). Scobies can be purchased, however you'll want to make sure you are getting a clean culture, and not one that is contaminated or cross bred with some other culture. The best way to obtain a scoby, is by getting one from a friend. Everytime you brew kombucha, it will grow a new culture/scoby. You can brew many times with a scoby, before it "dies." When it turns a darker brown, then it is farily used up. Then, you can put it into the blender, and blend it into a paste cream, and use it as a facial. It is very good for your skin.

If you are unable to get a scoby from a friend, then you can grow your own. Here's how...

1. Go to a good health food store, and buy a bottle of kombucha. Make sure it has active, live cultures in it. Look through the bottles, and get one with stuff floating around in it. The more stuff floating in it, the better.


Pour some of the kombuca into a clean, glass jar, and put a clean cloth over the top of the jar, and secure it on with a rubber band or lid ring. Place the jar in a clean, dark place where it will not be disturbed. Leave it alone, for a few weeks to a month. First, you'll see nothing happening, and then one day, you'll peek in at at, and you'll see a skin on top of the liquid. This is the beginnings of a scoby growing. Over the next several days, it will thicken, to look kind of like a pancake. Once it is looking like a pancake, it is ready to brew some homemade kombucha for you.


To brew kombucha, you'll need the following:

- A glass container to brew in. Make sure this container is large enough to hold nearly a gallon of liquid.

- A double layer cheesecloth, or clean flour sack cloth, which can be washed and reused (recommended)

- A rubber band

- Clean glass jars or bottles to keep the finished kombucha in

- Four tea bags of black tea

- A cup of white sugar

- Spring, purified, or super filtered water

- A half-cup of already made kombucha, or a half-cup of apple cider vinegar

- A fourth cup of apple cider vinegar

Here is how to make this amazing drink:

1. Bring four cups of spring/purified water to a boil.

2. Pour the super hot water into your large, glass brewing container. Do not brew or store kombucha in plastic or metal. It will leach toxins.

3. Put in four tea bags, and let them steep in the hot water for ten minutes.

4. Ten minutes later... Remove the tea bags, and stir in one cup of white sugar.

5. Pour in more spring/purified water, until your brewing container is almost full. Leave around three inches from the top.

6. Mix in a half cup of an already made kombucha, and a fourth cup of apple cider vinegar. This will help protect the culture and prevent mold from growing during the brewing process. If you do not have a half cup of already made kombucha, then instead put in a half cup of apple cider vinegar - meaning you'd put in a total of 3/4 cup apple cider vinegar.

7. With very clean hands, gently put the kombucha scoby on top of the tea. Some scobies float, and some sink. As you can see in the below picture, in one brew, the scoby is floating, while in the other brew, it has sunk. It doesn't matter if it floats or sinks; either way is fine.


8. Place a clean cloth over the top of the brewing vessel, and secure it on with a rubber band. Place your brewing vessels in a dark, calm place, where it is kept away from contaminants, sunlight, and kept from being shaken or moved.

9. Leave it alone to brew for one week. Then, take a look at it. It should have grown a new scoby on top. If the new scoby is very thin, or see through, then brew for another week. Else, sniff around the container. If it smells a bit sour, or like vinegar, then it is ready.

10. Remove the scobies, and set them to the side to start another brew. Note: always keep at least one scoby in some kombucha in a jar, stored away for a back up. This way, should you have a brew that molds, then you have a back up scoby to start a new brew. If you have a brew that molds (this only ever happened to me once or twice) then you need to throw out the brew, AND the scoby. Then, you MUST clean the container very well, in scalding hot water - make sure it gets completely disinfected before you use it for a new brew.

11. Pour the new kombucha brew through a fine strainer if you'd like to get rid of the floating bits (the floating bits are small pieces of culture, and are harmless, so it's okay to consume them. Then, pour your finished kombucha into glass jars, bottles, or containers.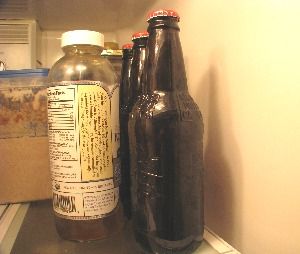 In the above picture, you see that I am reusing an old storebought kombucha bottle, and several ex-rootbeer bottles to store my kombucha in. The brown stuff in the container next to the bottles is my sourdough starter. :-)
12. Taste your kombucha. It if is as sour as you'd like it, then store it in the fridge. If you want it more sour, then store it away in a dark cabinet, and taste it again in a week or two, and then move it to the fridge when it is as sour as you want it. When it is at its most sour, then it becomes kombucha vinegar, and yes, it can be used in the pace of regular vinegar in many recipes and salads.

Enjoy your healthy and yummy kombucha.