---
Make Your own Study Bible
---
Lately, I've been enjoying making my own, personal study Bible. I have a system, and it is very simple, because I know that if I get too complicated with it, I'll lose interest.

Here is my system:

1. Choose a Bible that you KNOW will last for years to come. Otherwise, what if you put all that time and effort into your own study Bible, just for it to fall apart? How much of a bummer would that be? I found a publisher of Bibles that makes excellent Bibles, and I put them to the test - they endure. I suggest any Bible by Local Church Bible Publishers.

2. Find the size and type of Bible you want to use. I wanted a hand sized Bible with center column references, and that contains the King James Translator's notes in the center column. Further, I prefer a King James Bible that not only has the Epistle Dedicatory in the front, but also the "Translators to the Reader." I prefer non-red letter, and an easy to read font.

The Bible that passes all the above requirements is the one I got:




It is the 110 Series Bible from Local Church Bible Publishers. It has everything I mentioned above, and is also wide-margin, so I have more room for my notes.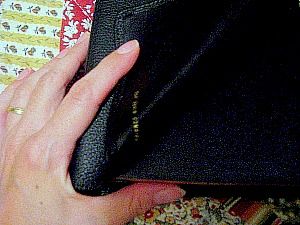 I got the one that has the three-piece, top grain cowhide cover. I LOVE it, and highly recommend it. As you can see in the above picture, the cover is very soft and flexible.

Below is a picture of the spine:




3. Once you have a durable Bible that you like, the next step is to decide if you are going to do any color-coding, and also to determine what you are going to write in your Bible with. I'm using a simple four-color pen. I got a pastel one, so it does soft colors in blue, green, pink, and purple. In my particular Bible, I can write and underline in it with this pen, and there is no bleed through - it shows little to not at all on the other side.

4. Take advantage of blank pages in the front of the Bible. Write down your name, when you got saved, when you got baptized, when you got married, the birthdates of all of your children, etc. Also, why not write out some favorite Scriptures? One of my favorites is Proverbs 31:26-28. I wrote it in pink. Also write down other info that you find helpful on these pages.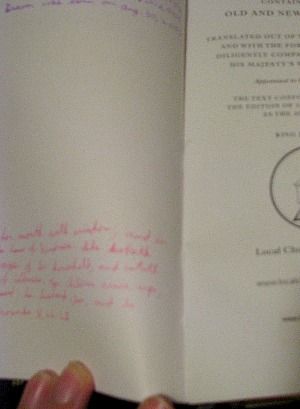 5. The back blank pages are handy, too. You can write certain Scripture studies and reference lists, and more. I have names of biblical measurements, and what they mean: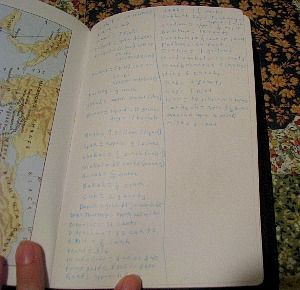 Also, I corrected the Exodus map. Like most Bible maps, it has the location of Sinai and the route wrong. You can see the correct location and route in the map in the back of the "Common Man's Reference Bible." Here is a link, just scroll down, and you'll see the map.

6. Now, for inside the Bible... At the beginning of a book, I chose the color green to write the author, and date written. I use alternating purple, blue, and sometimes green to write notes. I write the notes in alternating colors, so that it's easy to find each separate note with the eye. To write a note, I put a little colored mark by the verse, and then I write the note (usually) on the bottom of the page, in the same color. I write the verse reference, and then the note. I also add more references in the side margin, if they are not already in the center column. I also put some really short notes in the side, as well.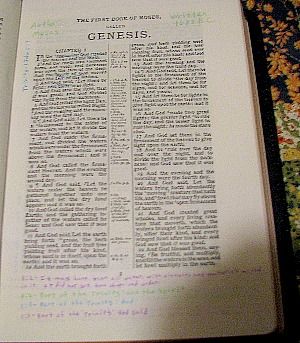 7. I save the pink pen for underlining Scriptures pertaining to women, and our biblical role.

See? Nice and simple. :-)